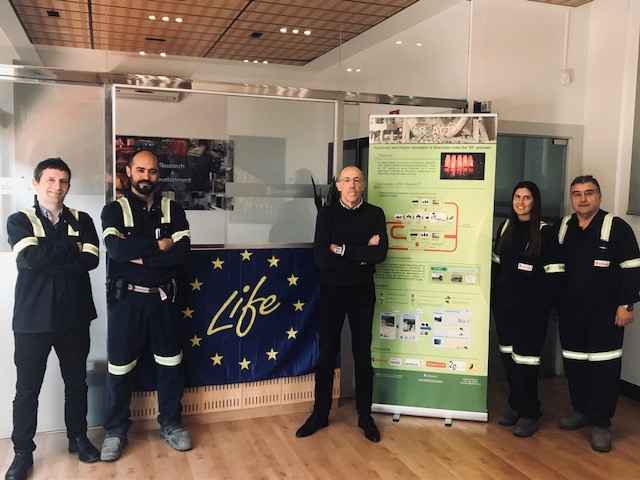 The company puts its stamp on Basque Government and European R&D programmes which rely on digitisation as a fundamental pillar.
Aligning industrial processes with circular economy by means of digitisation: this is Sidenor's innovation strategy and the technological transformation axis of the company, which leads and participates in environmental projects supported by Ihobe such as Stirladle, Termoslag and Tracex, as well as the European projects Life 5RefrACT and COCOP.
Sidenor has consolidated its position among the companies most involved in the circular economy strategy of the Basque Government.
The group, chaired by José Antonio Jainaga, leads the Stirladle and Termoslag programmes, supported by Ihobe, with the aim of developing the necessary systems for the online control of steel agitation in the ladle as well as slag transfer to tipping in the electric arc furnace.
As the company explained to Empresa XXI, such measures "aim at deriving maximum benefit from the operational advantages obtained through the optimisation of simulation, sensorics, control and regulation of steel making and melting, which help avoid alloying elements shortages in slag or products". In this sense, Sidenor underlines that "these developments are geared towards the inclusion of new measuring parameters in order to improve even more atmosphere adjustment in furnaces, while enabling a better control of operational procedures; all this aims at improving steel quality and reducing raw material as well as energy consumption".
Sidenor also participates in a third circular economy programme of the Basque Government, called Tracex, which revolves around recovery. Various companies participate in this project with the aim of implementing a digital platform for the tracing, quantification and exchange of information on industrial waste, including iron and steel aggregate.
At European level, Sidenor has led and coordinated industrial testing within the Life 5RefrACT European project, which has ended this year and translated into the development of new refractory products whose composition includes up to 70% of material recycled from the waste generated in steel mills, such as MgO-C bricks, high alumina, isostatics and MgO tundish masses.
The project, in which partners such as Magnesitas Navarras, Refralia, 2.0 LCA Consultants and the University of Malaga have participated, has also enabled the demonstration of tundish masses recovery technical feasibility, as well as a decrease in CO2 emissions, as this process does not require magnesite or alumina production from the original mineral.
It is also worth highlighting Sidenor's participation in the COCOP European project, which aims at implementing plant monitoring and control in strategic industries whose functioning can be optimised by means of process digitisation. Specifically, the work performed at Sidenor has consisted in developing online monitoring and alarm tools applied to its secondary metallurgy and continuous casting processes.
Thus, the company has also implemented optimisation tools so as to assess the ideal values of parameters which impact secondary metallurgy, continuous casting and rolling processes. This way, surface defects in the final micro-alloyed steel product are reduced, which in turn ensures the good performance of manufacturing processes related to the incidence of defects.
COCOP is part of the H2020 programme and, together with Sidenor, enjoys the support of Tecnalia, MSI and various partners from six European Union countries.