Next May, Sidenor will participate in the Made in Steel fair in Milan, Italy, with its own pavilion. This established international event focuses on steel industry and its main target group, the sector's industrial staff.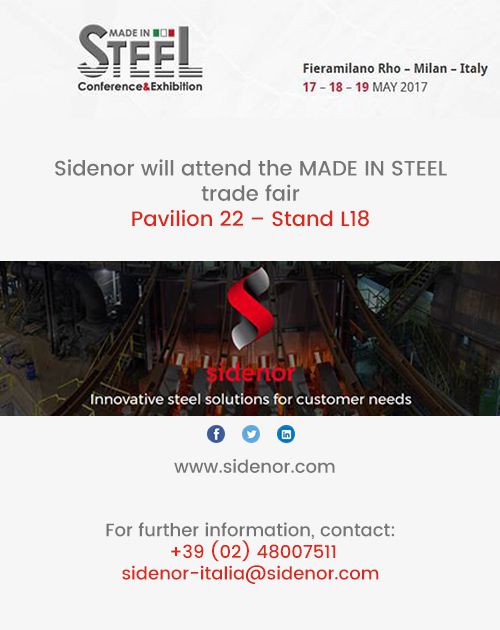 Since its beginning in 2005, the fair has taken place every two years and, for the first time this year, Sidenor will participate in Made in Steel not only as an attendee but also as one of the exhibitors, with its own pavilion.
Unlike other fairs in the sector, Made in Steel aims not only at showing steel-related products and services, but also at providing the best context for business opportunities and for reaching new customers. During the three days of the fair, apart from the exhibitors, various presentations and discussions on the current state of the sector, the current macroeconomic context and the steel business trend in the European market will take place.
Sidenor is a world-level reference of the sector of special steels and has a leader position in terms of research and development. We are therefore convinced that it will be one of the most visited exhibitors in Milan, as we expect thousands of people from the metal sector (including several federations and associations) to visit the area of 40,000 square meters and the 7th edition of 2017 to break the attendance record during the three days of the event.