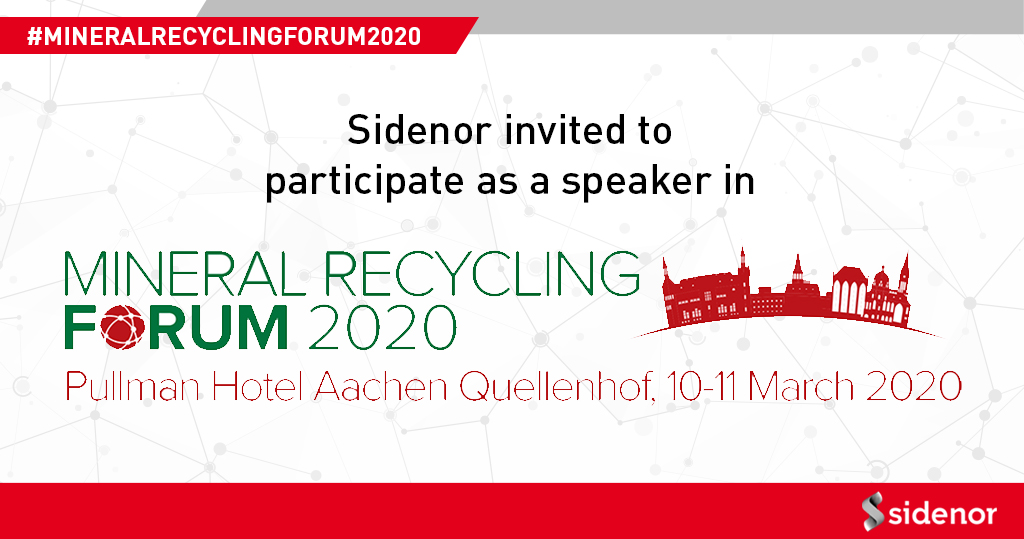 The fifth edition of the Mineral Recycling Forum organised each year by IMFORMED, in which Sidenor participates as a speaker for the third year in a row, takes place on March 10-11th, 2020. This event, held this time in the German city of Aachen, continues to develop as a reference encounter for all agents involved in the recycling and valorization of mineral waste as well as secondary raw materials.

Altogether, the 13 presentations given by experts and leading agents from industrial sectors will address topics related to Circular Economy strategies for the main waste generated in the industrial area. Sidenor is one of the major protagonists of the section dedicated to Refractory Waste, where it will hold a conference named "Valorisation of refractory waste: latest developments & progress", and present the scope and latest developments of the two European projects supported by the European Commission, the "5RefrAct" project under the LIFE programme and the "E-CO-LadleBrick" project within the framework of the RFCS (Research Fund for Coal and Steel). In both cases, Sidenor coordinates the respective consortia.
With this third invitation, Sidenor reflects its commitment to the search of excellence in the Management of Refractory Waste, thereby achieving highly innovative objectives such as the valorization of tundish masses and the implementation of a Systematic and Integral Management of refractory waste. This way, Sidenor consolidates its image as a company committed to the environment and the optimisation of its resources, in terms of Circular Economy and Industrial Symbiosis.
This industrial milestone could be achieved thanks to the work which has been carried out since 2012 by a multidisciplinary team centered around the Basauri steelwork staff which, along the years, has developed the Best Practices for the Management of Refractory Waste, thus turning Sidenor into a reference and unique steel manufacturer in this area.
More information on the forum, the conference programme and a retrospective view of previous editions is available under the following link: http://imformed.com/get-imformed/forums/mineral-recycling-forum-2020/