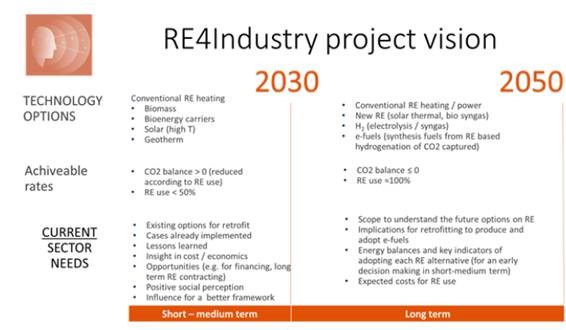 The EU has started a progressive decarbonisation with the aim to become carbon neutral by 2050. Energy-intensive industries (EIIs) are expected to play an important role in this transition, as they represent 24% of the final energy consumption, but a clear advantage in the long term. A vision and strategy is necessary in order to remain competitive and contribute to EU decarbonisation objectives.
Against this background, the RE4Industry Project has a double objective: to support energy-intensive industries in the identification and integration of renewable energy solutions together with the definition of action plans in favour of decarbonisation, and to transform the EU industrial landscape into a wide market niche for the adoption of renewable energies while defining appropriate framework conditions for short-term and long-term scenarios.
The project implies a robust participation strategy and the creation of RE4Industry's cooperation network, which will be provided by project partners with knowledge transfer material, such as successful examples, best practices, policy recommendations and technological roadmaps aimed at promoting the adoption of renewable energies.
In parallel with networking activities, RE4Industry will develop a baseline methodology for the design of action plans for the decarbonisation in EIIs, which will be developed and validated together with 3 industrial use cases that are representative of the steel, aluminium and chemical sectors.
SIDENOR will act as a study case for the steel sector and actively participate in knowledge transfer tasks as well as dissemination actions.
The RE4INDUSTRY project includes a consortium composed of 12 companies, technology centres and industry associations. This project is supported as a Coordination and Support Action within the framework of the ENERGY tender of the Horizon 2020 programme, in the specific category "Market Uptake support". It has an overall budget of €2,999,500, and is entirely funded by the European Union.