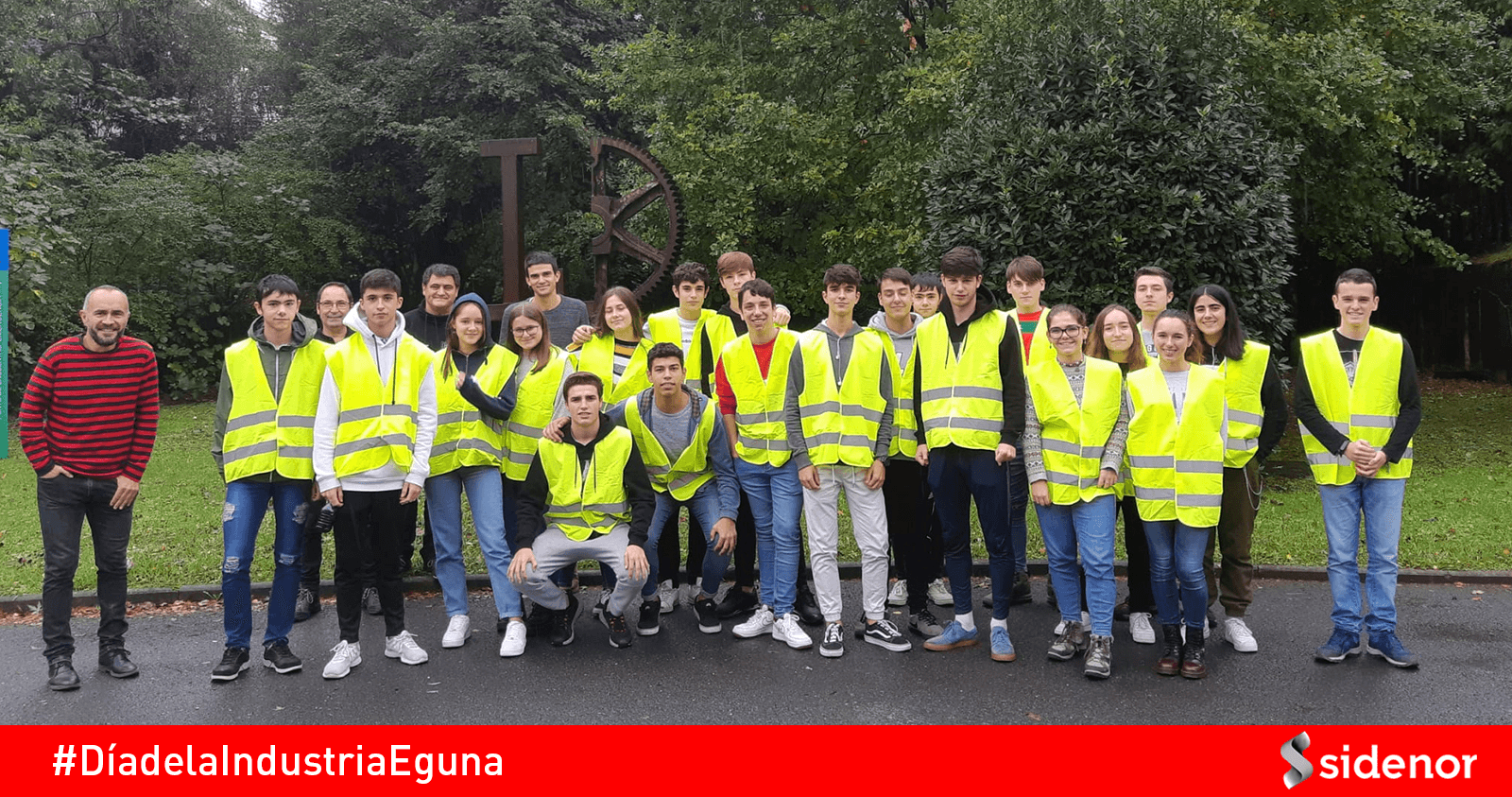 At Sidenor, we are committed to the future of the sector and, for this reason, we belong to the companies which have participated, today, November 6th, in the Day of Industry, an event aiming at bringing the industrial reality closer to the professionals of the future.

This year, the centre which visited Sidenor is the IES URBI of Basauri, located very close to our plant in the locality where the visit was organised.
Overall 22 students attended a presentation of Sidenor and were able to discover which types of profiles can be found in the company, in the areas of Production and Maintenance as well as in other transversal areas such as Purchase, Environment, Prevention, Marketing, Communication, Human Resources, Commercial… and thus acquire a global vision of the wide range of talent possibilities in the Industry, some of which they had never imagined before.
Apart from this first-hand discovery of the daily tasks performed by Sidenor's professionals, the radical change brought in this sector by the possibility to work with new technologies was also highlighted: Industry 4.0 and digitization are indeed some of the future talent needs which will be required in the industrial area in the coming years.
The visit then included the centre of Sidenor R&D, where our research team showed them the equipment and the Metallurgical Laboratory, in which all necessary tests are performed in order to improve and optimize our products and processes.
In essence, we believe that the main objectives of the Day of Industry have been reached this morning: the 33 companies which participate in this event were able to show their technology, production processes, professional profiles and innovative capacity, etc., as well as the industrial reality from within, excluding old preconceptions and providing first-hand knowledge on technologically advanced environments.
Within a sector that is committed to our environment and the future, such initiatives are fundamental for companies such as ours, where the demand for talent and trained profiles is increasing, and we cannot miss the opportunity to show how we work nowadays, with increasingly sustainable and safe processes and products, in environments where women and men perform similar tasks that are increasingly digitized.
The highlight of this event finally took place at the BEC!, where 1,000 students from different centres met for a central gathering including various surprises and testimonies, among which one of our Sidenor R&D researchers.
We look forward to the next Day of Industry!
#DíadelaIndustriaEguna